(01-06-2019, 11:37 AM)

Jordi Wrote: Post your ideas-suggestions to be implemented on new game versions

Pon aquí tus ideas o sugerencias para ser implementadas en nuevas versiones del juego.
Bueno aquí van unas cuantas ideas:
1. Hacer que las cuevas sean opcionales. Una partida sin cuevas haría que edificios como los de adiestramiento (que realmente tienen poco uso una vez se investigan X tecnologías) puedan usarse como fortines reales para controlar el terreno o puntos de abastecimiento. 
2. Poder reengancharse a una partida online cuando se desincroniza. Esto ya ha sido sugerido por otros usuarios y me parece una muy buena idea. Estar jugado durante dos horas y que se cierre la partida te deja desanimado y con la sensación de que has perdido un tiempo valioso.
3. Aquí entro ya como historiador de Roma con TFG y TFM en la legión romana y por lo tanto solo va dirigido a las facciones romanas. En primer lugar, la unidad del carro romano, aunque interesante no existía. Aunque hay autores que opinan que en época monárquica si se podía dar el caso, aunque es mas probable que se tratase del carro en el que iría el rey, el cual luego desmontaría y combatiría a pie. Si se opta por dejar la unidad en el juego, cambiaría el armamento para combate cuerpo a cuerpo en vez de a distancia. El legionario republicano (y resto de unidades) debería de recibir un lavado de cara estético, ya que su imagen (y armamento) no corresponde a la de un legionario de época republicana aunque se puede mantener las habilidades. Aquí abajo adjunto una imagen de lo que serían los soldados romanos republicanos de izquierda a derecha: 
- cambiar legionario por hastati.
- cambiar arqueros por velites.
- cambiat tribunos por triarii.
- cambiar princeps por principes.
- Cambiar gladiadores por auxilia (tropas auxiliares).
- Quizás meter héroes personalizados que aparecen en el modo de Grandes Batallas como los escipiones, aunque no lleven el nombre (como la versión de César llamada Cornelius).
Aunque con las reformas de Mario se homogeneiza hasta cierto punto el armamento, se sigue manteniendo el nombre de hastati, triarii y principes.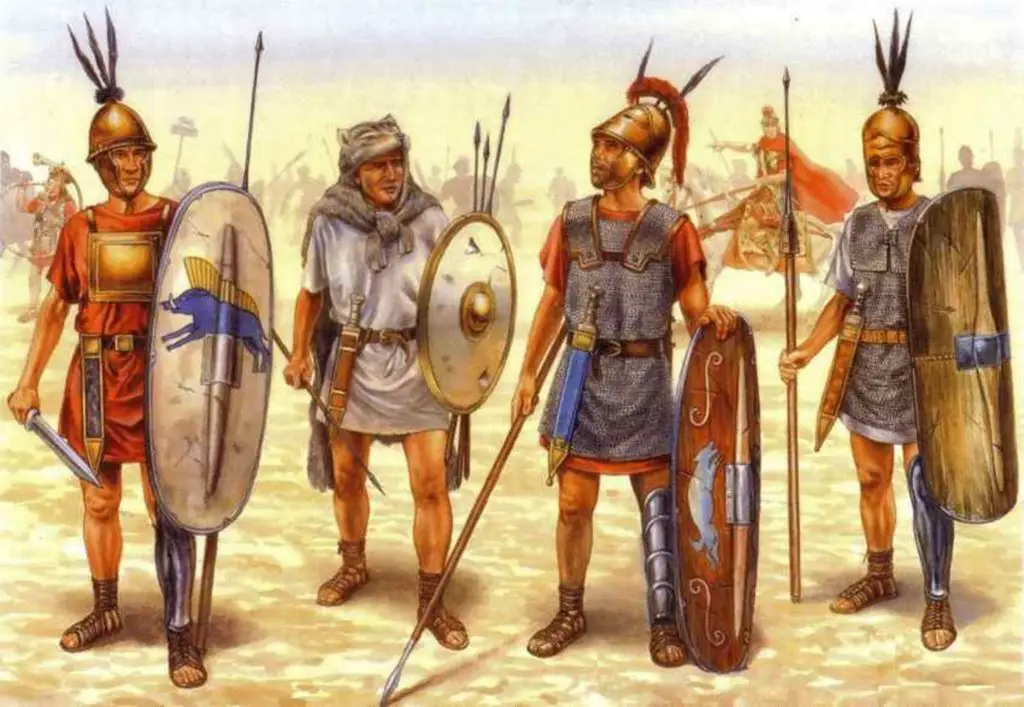 Época imperial: Los velites se dejan de usar en época republicana (Guerra de Yugurta 
112 a. C. – 105 a. C.). Con respecto a los otros tipos de soldados, aquí ya podemos ver la lorica segmentata (la típica armadura romana de placas introducida alrededor del año 20 a. C.) y los escudos convexos con los lados rectos que todos conocemos (introducidos en época de Julio César). 
Sobre los héroes lo mismo que los republicanos, meter los que aparecen en el modo Grandes Batallas como Augusto o Agrícola.
Finalmente me uno a la petición de varios jugadores de la incorporación de nuevas facciones como los griegos y los partos.
P. D.  Si necesitáis un historiador en el equipo contactarme